Fudgie the Whale® Father's Day Commercial
Fudgie the Whale is a timeless Carvel classic and has been part of Father's Day celebrations since 1977. This year, to celebrate everything that makes Dad special, we are bringing back a beloved piece of our history: the iconic Fudgie the Whale® Father's Day commercial and Carvel hotline! Check out our modern take on the iconic throwback commercial featuring Fudgie – and call 1-833-FUDGIE1 to hear from a gravelly voice that harkens back to one our fans know and love – Tom Carvel!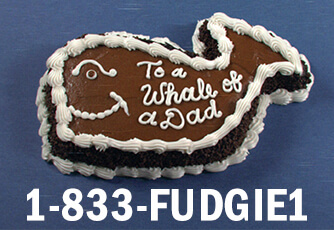 Call

1-833-FUDGIE1

1-833-FUDGIE1 for a whale of a surprise
Call the hotline to enjoy iconic dad jokes from "Tom," learn more about Fudgie the Whale®, and hear about how you can get your hands on the re-release of Fudgie the Beer from Captain Lawrence Brewing.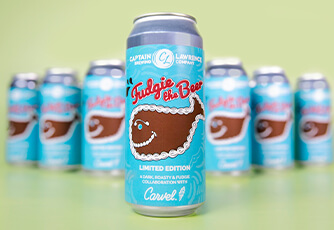 Fudgie the Beer
We've teamed up with Captain Lawrence Brewing once again to re-release the popular Fudgie the Beer and give Dad a little something extra to enjoy this Father's Day.
Fudgie the Whale® Merch for Father's Day
Treat a dad in your life and his undying love of Fudgie with our Fudgie the Whale® merch!
Who is Fudgie the Whale®?
---
Fudgie the Whale® has become a renowned and beloved symbol for celebrations of all types since its creation as a Father's Day dessert in 1977. For over 40 years, Fudgie has emerged as a pop culture icon, swimming his way into events, celebrations, holidays and more.
Read More

Find Your Participating Shoppe
Head to your neighborhood Carvel® to order a Fudgie the Whale® cake
Sorry! No Stores found in the area of .
Search again with another city, state or zip code.
TOP